4 DAY Professional Barista Course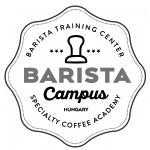 Advanced and beginner barista courses.
Barista Campus is one of the largest and best equipped barista training centers in Hungary. Our team is made up of barista trainers, who had practiced for years and who already won several prices in different barista competitions. Our barista trainings go beyond the Italian coffee culture and are based on the "new-wave coffee" approach, influenced deeply by the present third wave American and Western-Europian coffee culture.
We hold our barista courses in hungarian language. For more info. please call: +36-20-281-9675
Showing 1 to 19 of 19 (1 Pages)